MB&F, that stands for Maximilian Büsser and friends, is one of those brands that I truly love due to the passion behind the development and creation of each timepiece. MB&F is deeply connected with its founder, Mr. Büsser: it's not simply business, it represents his way of life. In fact, his ultimate goal is not the mere generation of profits as 99% of other companies, au contraire! The total amount of watches produced this year is 218, and even while facing a constantly growing demand, his program is to reduce the production number. Due to his intention, many retailers have been dropped by the company. For the past 14 years, Büsser has been keeping his team and his business small, even when opportunities for growth were immense. His team counts only 25 people, and he declared many times that his salary is not as high as before while working for Harry Winston. A true lover of his work! Mr. Büsser is not just a creative genius, but also a smart businessman. His intentions of not growing in production could also very well be a smart way to increase the demand for the already extremely rare timepieces, creating a 'queue effect' and increasing the exclusivity of this already very limited masterpieces. One of my favorites is the so-called HM9: Horological Machine Number Nine. It is one of a long series of 'horological machines' which debuted in 2007, as Büsser loves to call his collections. Each of the Machines is basically a pure act of horological deconstruction and recreation.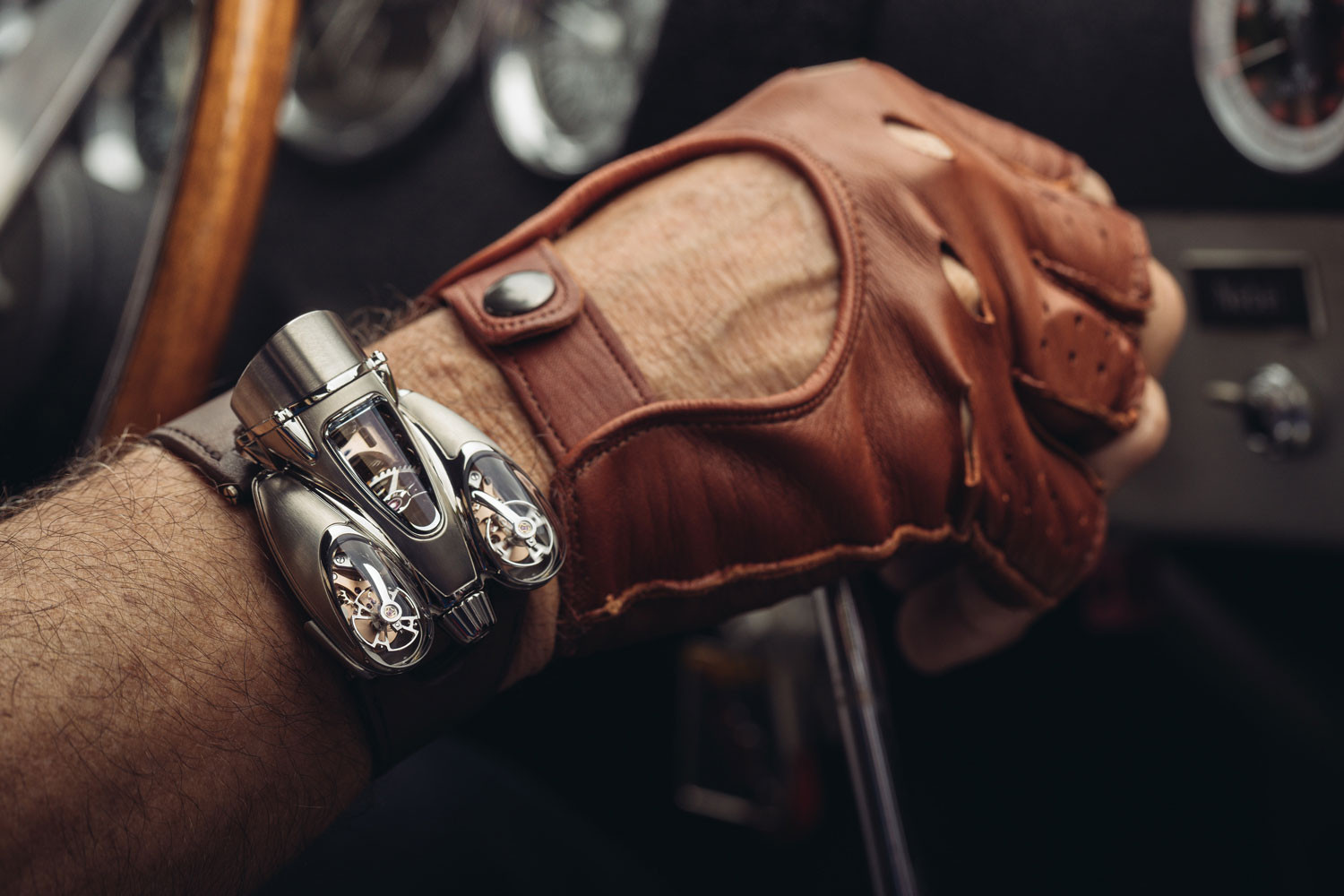 Each model is inspired by something; they can be defined as "design timepieces", wrist-wearable art. All the traditional elements are re-thought and re-engineered to create something completely new and out of order. All the HMs are connecting emotionally to the audience, to evoke the nostalgy of childhood. The HM9 is a deliberate celebration of the streamlined cars and aircraft of the 40s and 50s like the Pontiac's Streamliner, but for the fans of sci-fi, there may also be echoes of Star Wars in the timepiece. Even if it evokes many different designs, it is also one of the most sophisticated horological machines ever built. Horological Machine N°9 'Flow' debuted in two titanium limited editions of 33 pieces each: the 'Air' version, with a dark movement and cockpit-instrument, styled dial and the 'Road' version, with a rose gold-plated movement and a speedometer-style dial. They fit a manual winding movement, fully developed in house, this mechanism was first pioneered by Philippe Dufour. The independent twin balance wheels beat at a leisurely 2.5Hz (18,000bph) on each flank of the watch, visible under cupolas of sapphire crystal. Sitting perpendicular to the rest of the watch's engine is the dial indicating hours and minutes. This particular feature makes it a watch for drivers, as it is easier to see the dial main while driving.
I've heard that many people complain by saying that is completely impossible to wear, too big and not comfortable on the wrist due to its huge dimensions; 57mm x 47mm x 23mm. I had the privilege to try it at Basel World, and from my point of view, I can say that even if it does not look comfortable, the experience on the wrist is totally different from what you can expect. This incredible timepiece has a whopping retail price of $182,000, which on one side can be considered a lot, but on the other hand, since this watch can count on a long period of development by the meticulous genius that is Mr. Büsser, I can ensure you that all MB&F's customers who love this newly designed machine, are ready to pay whatever price to have it on their wrist.